Heritage

Smoke Shop
"Smoke It Your Way"
We want to be your favorite smoke shop in Palm Beach, offering the best in Waterpipes, Glass Pipes, Vape Pens, E-Hookah, E-Cigs, Unique Glass Pipes, Oils Rigs, Vaporizers and so much more.  Order online for fast delivery or stop by and visit us in Boca Raton, 2 blocks north of Yamata Road on Federal Highway. Our Head Shop is open from 10am until 11pm Monday-Thursday, 10am-12am Friday/Saturday and 12pm-11pm Sunday.  Get to know us, stop by and check out our smoking pipes and meet our friendly and knowledgeable owner and staff.  Our smoke shop/head shop is an easy drive from West Palm Beach, Delray Beach, Boynton Beach, Lantana, Lake Worth or anywhere in the Palm Beach County area to get to our Boca Raton Smoke Shop.
You must be over 18 years old to view content contained in this site.
Button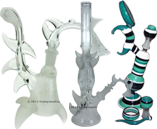 **Warning! Nicotine is an addictive substance. This product has not been approved by the U.S. FDA as a smoking cessation product. This product is simply an alternative to tobacco smoking and should only be used by long-term smokers. This product is not intended to diagnose, treat, prevent, cure, or mitigate any disease or medical condition or offer any therapeutic benefit. Do not use this product if you are under the legal age of smoking or if you are sensitive to nicotine or inhalants. Do not use this product if you have or if you are at risk of having any respiratory conditions, heart disease, high blood pressure or diabetes. Consult your doctor before use if you have any medical conditions. Do not use if you are pregnant or nursing. Discontinue use of this product immediately if you experience symptoms such as nausea, dizziness, a weak or rapid heartbeat, vomiting, diarrhea, or any negative physical symptom. Keep product away from children and pets.